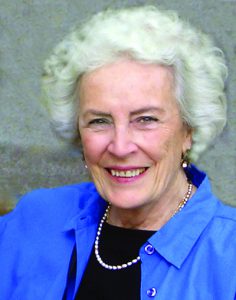 Heather lights up the room with her charming smile and British accent. Her life at 85 is still a continuous adventure, and that is the advice she gives:
"Never stop learning, pushing yourself out of your comfort zone and exploring the world. Aging is inevitable, but only the physical decline is a nuisance. Your mind and curiosity are just fine."
Deeply rooted in Scottish culture and named after the preeminent Scottish weed, much to her grandmother's dismay, Heather was born in Montreal, lived on a dairy farm, boarded with nuns during WWII, and started exploring the world at the age of 21.
She shares fond memories of "the fifties" — being in London for the hoopla of Queen Elizabeth II's coronation and becoming an integral (and useful) part of the Black literati circle in Paris, assisting author Richard Wright in preparing his manuscript "Black Power" for publication.  Heather's talents quickly made her a valuable copy editor at publishing houses in London and New York.
After starting a family (which at one point included a 6-foot python), Heather moved to San Diego and started a real estate career with Coldwell Banker, which allowed time for taking memorable trips to favorite and new places, where Heather stays
"long enough so  that the neighborhood turnip seller greets me by name."
A consummate professional and lifelong lover of literature, Heather is still editing books for two San Diego writers. A proud anti-consumerist, Heather only comes to the mall to get to Oasis. As far as spending, Heather splurges on books and wine. She runs a popular book club at San Diego Oasis, which pushes her and the club members to read fiction and non-fiction books.
Heather has attended over 300 classes at Oasis so far. She supports the mission by making donations every year and through legacy planning: San Diego Oasis is the beneficiary of her Charitable Gift Annuity.