Aurelia & Jim Temenak Art Gallery
San Diego Oasis at Rancho Bernardo
Art has always been an integral part of the Oasis culture, and we are pleased to continue this tradition in both of our La Mesa and Rancho Bernardo locations. Oasis is grateful for the generosity of Aurelia & Jim Temenak who share our vision and love for art and who have overseen the procurement of our permanent and rotating gallery at Rancho Bernardo. We appreciate their investment of time, resources and joy in bringing art to our beautiful new space.
Vision Statement for the Oasis Art Gallery
To enhance the visual beauty of Oasis at Rancho Bernardo and to make the entire space cheerful and inspiring for all who visit and work at Oasis.
We currently have several artists featured in both locations, including Lisa Elley, Mike Lafata, Ingrid Hoffmeister-Hoy, Iris Scott, Rosemary KimBal, Eddie Omens, Cynthia Haney, Leonid Afremov, and more. All artwork in our rotating exhibits are for sale, with all or a portion of proceeds going to support the mission of San Diego Oasis. We accept all forms of payment (cash, check, Visa, and Mastercard). If you are interested in making a purchase, please visit the reception desk at either location and we'll be happy to work with you!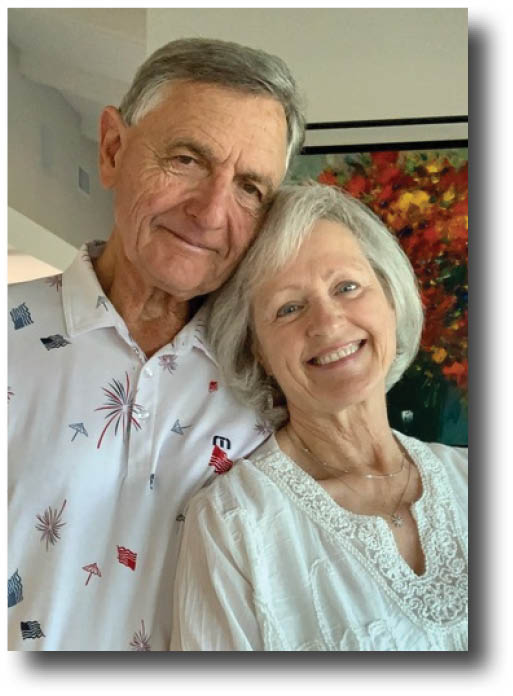 Interested in pursuing or perfecting your own artistic endeavors?
We have a variety of art classes at both locations, including drawing basics, acrylics, watercolor, ceramic glazing, notecard making, paper quilling, photography, gel printing, and more! Options change each trimester, so browse our Arts Classes page to see what's coming up.
Lisa Elley
Works on Display at Rancho Bernardo Location
Lisa is an accomplished artist and author based in the San Francisco Bay, recognized with multiple awards. Her artistic vision centers around sharing her gift with others and bringing joy through her vibrant and textured palette knife oil paintings. With a widespread presence in private and corporate collections worldwide, Lisa's art has a remarkable ability to touch and inspire her clients. Her artwork is available through her own website, select art galleries, exhibitions, corporate installations, vineyard tasting rooms, and social media platforms, garnering millions of monthly views. Lisa also engages in live painting events, licensing, wine label design, speaking engagements, teaching workshops, e-courses, and collaborations with other artists and professionals in the art industry and beyond
Learn More | Lisa Elley
Kristen Guest
Works on Display at Rancho Bernardo location
Kristen Guest is an award-winning and published full-time artist and art instructor in San Diego, California. She graduated from art school at Middle Tennessee State University with a degree in Art Education, that focused on painting, book arts and printmaking, and has been teaching realism painting since 2004 and abstract painting since 2018. Currently, Kristen is the Resident Artist at Bernardo Winery in San Diego, where her studio is located, and she is a Mentoring Artist and the Director of Education at Art on 30th, an arts community in San Diego's North Park historic arts district. Kristen is a member of the Oceanside Museum of Art's Artist Alliance and Woman Made Gallery in Chicago. Her work is represented through Ashton Gallery in San Diego and Janssen Artspace in Palm Springs, and has been displayed on exhibit with The Athenaeum Arts & Music Library in California, Huntington Beach Art Center in California, Port Angeles Fine Arts Center in Washington, Jen Tough Gallery on Artsy.com, Saatchi's The Other Art Fair Online Studios Los Angeles, and Guest House Staging in San Diego.
Kristen's art is the first in our series of rotating exhibits; we invite you to come back often to enjoy both the new and permanent collections. All artwork in this exhibit is available for purchase, with 30% of proceeds going to support the mission of San Diego Oasis.
Learn More | Kristen Guest
Ingrid Hoffmeister
Works on Display at Rancho Bernardo Location
My passion for creative expression has been lifelong and not chosen. Rather, it chose me. I have played around all my life with poetry, drama, drawing and writing. British-born and educated in England, I came to the USA in 1984. Fifteen years ago, I was fortunate to meet a local Jungian Analyst and artist who introduced me to psychologist Carl Jung's concept of dreams and active imagination. I began to play and experiment with painting, allowing my own unconscious world to spontaneously express itself through color and form. My motive was purely personal, and I didn't think about exhibiting or selling my work until I met a trained Mexican artist who also painted spontaneously through active imagination. Her respect and understanding for my work process culminated in her becoming my mentor. For the past 3 years we have exhibited together both in San Diego, CA and Tijuana, Mexico. My passion for trusting oneself to the canvas is paramount and selling the paintings has been an unexpected outcome. Working spontaneously requires leaving your judgement behind and risking a break from conventional thinking. Knowing there is no right or wrong is where my passion lives. I work in acrylic paint and ink on canvas.
Learn More | Art by Ingrid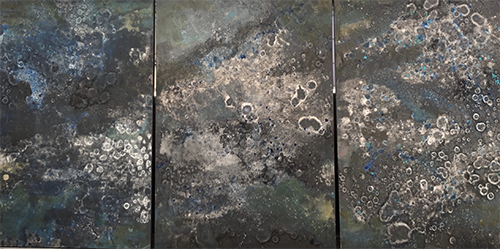 Rosemary KimBal
Works on Display at La Mesa Location
Rosemary KimBal is an accomplished artist and illustrator with almost fifty years of experience, specializing in contemporary Zen painting. Her artistic career began in 1971 when she was studying Zen and attended meditation sessions at the Tassajara Zen Mountain Center in the central coastal mountains of California. KimBal is influential in national and international circles that celebrate the ancient art of Zen painting. Using a free and spontaneous technique, her painting styles range from the traditional to the abstract. KimBal has illustrated twelve published books. Her art also includes works on rice paper, canvas, fabric, scrolls, note cards, clay ,ceramic tile, film and theatrical scenic design.
Art critic, Pat Stein wrote about Rosemary KimBal: "Once the brush is dipped into the ink, the stroke is executed with the speed of a pelican swooping into the surf for a fish, but the mental energy has already been marshaled and the intent is clear."
Learn More | Dancing Brush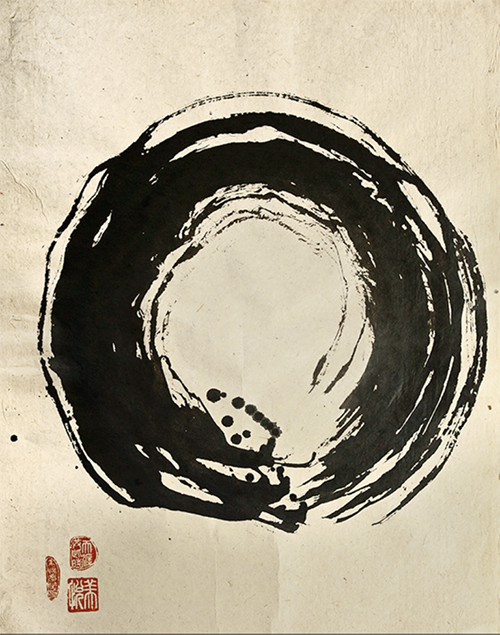 Mike Lafata
Works on Display at Rancho Bernardo Location
As an abstract painter based in the beautiful city of San Diego, Mike's artistic philosophy revolves around exploring the interplay of color and form. His paintings are rich in texture and dimensionality; drawing inspiration from the world around him. His approach to painting is rooted in minimalism, where he uses a delicate balance of translucent and opaque textures to create one-of-a-kind works of art. Each piece is carefully crafted to evoke a sense of depth and intrigue, inviting viewers to embark on their own interpretation based on their personal experiences. Abstract art is a fascinating genre that holds the power to transcend language and cultural barriers, enabling us to communicate on a deeper emotional level. As an artist, he takes pride in the ability to connect with his audience and inspire them to see the world through a new lens.
Learn More | Mike Lafata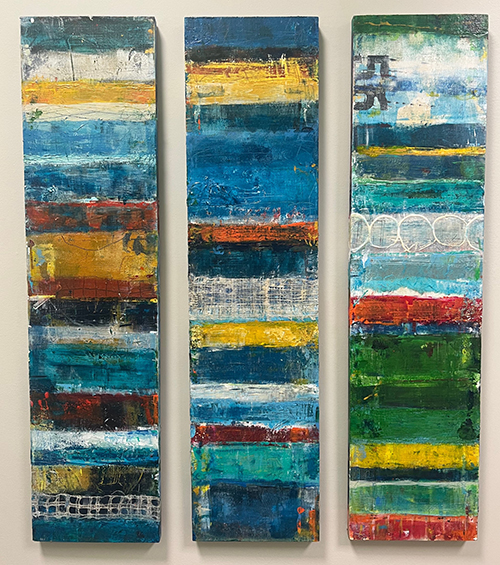 Iris Scott
Works on Display at Rancho Bernardo Location
Iris Scott (b.1984) grew up in Maple Valley, Washington on what she describes as a "one-family hippie commune". She and her sister spent evenings listening to their mother, a writer, tell epic tales about the anthropomorphized lives of the family's pet parrots, lizards, cats, goats, and rabbits—with wild coyotes appearing in the stories as special guest stars. Iris' father, a custom cabinet maker, worked in a shop attached to the house, and Iris absorbed how a woodworker manifests their ideas with their hands. Iris continues the family's storytelling tradition of magical realism, like her mother, and emulates her father by building the worlds she imagines with her hands. Scott's college years were spent in Florence, in the same centuries-old halls where Raphael, Michelangelo, and Da Vinci worked. In her mid twenties, Iris moved to a tiny apartment overlooking a rainforest outside of Kaohsiung, Taiwan. During this time, she stumbled upon finger painting when a serendipitous lack of clean brushes prompted her to finish a painting with her fingertips. In that moment she recognized how fingers could scoop oil paint better than brushes, and overnight she committed to leaving her brushes behind. Scott worked exclusively as an oil finger painter from 2010 to 2020. Her journey as a painter took her to New York, where she lived and worked in a Brooklyn loft space for six years.
Learn More | Iris Scott