Start 2020 with intention through lifelong learning, healthy living, and community involvement.

San Diego Oasis is a unique educational program for people who want to learn and be productive throughout life.
We are leaders in healthy aging through lifelong learning, healthy lifestyles and volunteer opportunities, and are changing the way people think about aging.
Enjoy classes and activities to stimulate your mind, cultivate your skills and use your experience. If you are not already a member, we invite you to join Oasis.
View our January – April 2020 catalog to see all the exciting opportunities for San Diego seniors at our Lifelong Learning Center and Wellness Center at Grossmont Center Mall and our Escondido Center.
We hope you enjoy perusing the pages to find classes that pique your interest and keep you engaged.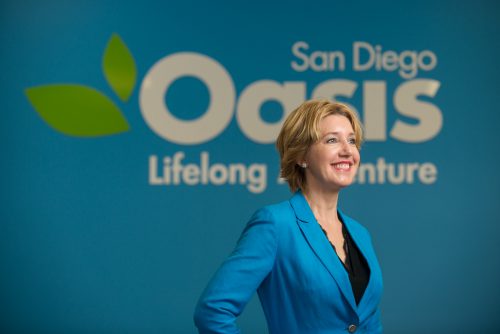 Welcome to San Diego Oasis!
Our team is thrilled to share with you our newest and most expansive catalog yet. At your request, our science and history sections are broader and deeper than ever, and you can find Oasis programs in more locations throughout our communities.
Every year, over 5,300 older adults are engaged with Oasis one way or another. Oasis members are actively learning something new, stimulating their minds, working their limbs, making fast friends and having fun! In addition, Oasis members are spending time in the community helping at-risk elementary school children improve their reading skills and build their self-esteem.
We can't wait for you to visit!
Warm wishes,
Simona Valanciute
President & CEO
Class highlights
You can register online for Oasis classes.
Here are some examples of classes you'll find at our centers and around town:
Arts – drawing, watercolor, digital photography, painting, Zentangle, mosaics, knitting, jewelry design
Business, Financial & Legal – wills and estate planning, investments, long term care, reverse mortgages and emergency preparedness
Computers & Technology – Facebook and other social networking sites, iPad apps, smart phones, genealogy, online safety, Androids, digital music, Windows 10 and WiFi
Exercise & Dance – better balance, bone-building fitness, strength training, soul line dancing, Zumba Gold, Tappercize, Pilates, Qigong, yoga, back pain relief
Health & Wellness – brain fitness, meditation, pain management, aromatherapy, healthy habits
History & Humanities – current events, local and world history, global affairs, religion, philosophy, mythology, architecture, art & music history, science
Language & Literature – poetry, creative writing, book clubs, French, Spanish, Lectores en Español
Personal Development and Enrichment – spirituality, men's group, women's issues, Mah Jongg, Poker, grief support,
Theatre & Music – acting, guitar, folk music, comedy, film and TV
Travel – Day trips, walking tours, extended travel and travelogue presentations
Volunteer Opportunities
Interested in volunteering?
You can give back to help children and adults in our community.
See all our volunteer opportunities to use the skills and experience you have developed over a lifetime.