Welcome to San Diego Oasis
New Class Registration System is here!
We have been working as best we can with an old system to manage our records and registration. Our new system allows us to better serve YOU, our customers. Class Zoom information is located in two places as we phase out the old system, and transition to the new. Take a moment to understand the basics, learn to navigate through the new site, locate your Zoom meeting information, and access Zoom to participate in your online class using this Registration Guide. Class registrations completed after July 7, 2020 will have Zoom class links – one easy click to get you to class!
If you need anything, email us at or leave a message at (619) 881-6262.
San Diego Oasis is an organization of learning and engagement to create opportunities for meaningful dialogue and deep thinking about current events as well as providing socialization, active living and intergenerational community initiatives to help low income children to learn.  Conversations are happening everywhere to talk about the recent unrest from tragic events related to George Floyd.  Won't you join Peter Bolland and San Diego Oasis for a presentation and dialogue to explore this very important issue?
An Important Conversation:  Understanding Police Reform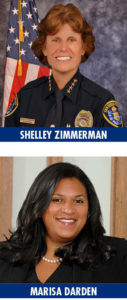 Class #493 | Wednesday, August 12 | 10:00 AM
Join two experts to understand the complexity surrounding police reform conversations. Shelley Zimmerman was the first woman to ever serve as SDPD Chief of Police and her tenure of 35 years set a service record for sworn female officers. She graduated the FBI National Academy #241. Marisa T. Darden is a principal at Squire Patton Boggs LLP. She is a former assistant U.S. attorney for the Northern District of Ohio and an assistant district attorney in the New York County District Attorney's Office.
See what's coming up by downloading our 2-Week Class Calendar: August 9 – August 22
Thank you to our sponsors!