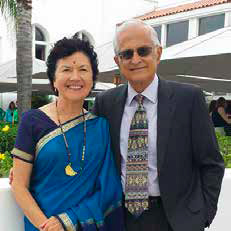 Bonnie and Krishna are in their 70s and more in love than ever before. They have been building their lives and legacy together for decades.
Avid travelers, Bonnie and Krishna have been involved in many worthy causes across the world. Krishna serves as a board member at San Diego Oasis and teaches a weekly class at the Braille Institute. Bonnie and Krishna are active members of the La Jolla Golden Triangle Rotary Club.
A lifelong learner, Krishna spent two years researching and publishing a genealogy book of 700+ pages on his ancestry in India dating back to 1703.
As a couple, Bonnie and Krishna have honored their spiritual and cultural roots by completing a Hindu pilgrimage, which took them to the four corners of India, and a Catholic pilgrimage, which took them on a 1000 mile walk along the Camino de Santiago in France and Spain.
Bonnie and Krishna recently put their estate plan together and included San Diego Oasis in it.
Their advice?
"Celebrate life! Every morning you have two choices: continue to sleep with your dreams or wake up and chase them."