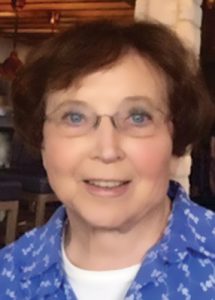 Emily was born on a fruit farm in the Spokane Valley in a family with three brothers. Her mother was the daughter of Norwegian immigrants.
Emily moved to San Diego in 1996 after divorcing her husband, to be near her son, Chris and his wife, Susie, and grandchildren, Keeler, Lychelle, and Mandalyn. Emily's other daughter, Katie, lives in Houston.
Emily has a BA in literature and an MA in counseling. She was a teacher, including a year-long stint in Japan teaching the US Army children. Emily served as a lay counselor and a facilitator of groups in the Unitarian Universalist Church, volunteered at the Balboa Park Visitors Center, tutored school children, helped with voter registration, babysat her grandchildren, and taught Haiku poetry classes.
Emily was recently interviewed by fourth graders about some of her life's adventures, which included a hike in Yosemite, travels in England, Ireland and Norway, the lands of her ancestors, and a river cruise on the Rhone and the Saône.
Emily is a lifelong learner. She enjoys reading, walking in Balboa Park, exercise classes at St. Paul's: Qui Gong, Zumba Gold, and fitness with Crystal. She has been learning about her new Mac Mini and iPhone at Apple. Emily has taken almost 500 OASIS classes since 2001, currently dedicating time to poetry and prose workshops, history, political science, mythology and religion. In fact, Emily is writing a memoir of family stories titled One Woman's Journey.
Emily has created a Charitable Gift Annuity, which generates guaranteed income for her and will be benefiting San Diego Oasis and three other beneficiaries as her legacy.