Friday, March 18, 2022 | Women's History Month
Meet Laura Diaz, Oasis Instructor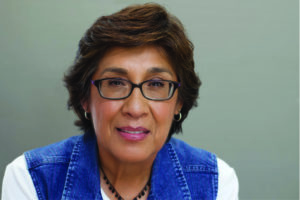 Continuing our Women's History Month celebration, San Diego Oasis is proud to feature Laura Diaz, author, life coach, and San Diego Oasis instructor.
Laura began her journey in personal enrichment in 2011 when she discovered her passion in helping women build confidence to accomplish their goals. Since then, Laura has made her brand and curriculum to help people cultivate happiness, find their potential, and achieve their dreams.
For this week's column, I was able to sit down with Laura to discuss her background, her experiences with San Diego Oasis, her views on the role of confidence and community, and women's advancement.
Sydney: Can you tell our readers about your background and what got you started in life coaching?
Laura: For the first 30 years of my life, I struggled with feelings of self-doubt and fear like so many other women. I chose to conquer my fear, overcome challenges, and achieve my goals. Once I made this choice, I discovered joy in helping women overcome their fears, find their voice, and build confidence within themselves.
Sydney: Fascinating! Society often discourages women from taking up space (metaphorical and physical). We are told to silence ourselves and appear small. So much of our self-esteem is impacted by this message. How were you able to overcome both the external narrative that women should silence themselves and your internalization of that message?
Laura: Excellent point, Sydney! We not only have to prove to ourselves that we can achieve our goals, but we have to combat those external messages. It is all about your commitment to learning more about yourself and the people you surround yourself with. Confidence follows once you commit to yourself and surround yourself with a community that counteracts society's negativity.
Sydney: Interesting point, Laura. Community is essential, and we know women can find that at Oasis. For my last question, I wanted to ask you what initially drew you to Oasis and what keeps you returning as an instructor? Can you discuss that with us?
Laura: I really loved Oasis' vision. I was drawn to the idea that it is never too late to achieve something. The women I work with are looking to improve themselves, but they often believe they have missed their opportunity. With Oasis, I could draw upon the vision that it is never too late.
What a wonderful and inspiring woman to celebrate Women's History Month!
You can find Laura teaching classes at Oasis:
Class #522 | Becoming More Confident! | March 29 @ 1:00 PM | Grossmont Center
Class #524 | Optimism and Living the Life you Love | April 12 @ 1:00 PM | Grossmont Center
Buy her book | Choose Confidence: 21 Ways Women Can Increase Self-Confidence
Visit Laura's website | www.inharmonycoaching.com