As experts in the field of aging, San Diego Oasis has identified learning technology as one of the most pressing needs for older adults/seniors. After observing the lack of tech tools, funding, and services available to this population, we talked with aging partners in government, senior community, and facility executives and funders who support aging issues to learn that everyone was talking about the need for tech help, but taking no action.
San Diego Oasis decided to take action by creating a pilot program to directly confront this lack of tools and training. We identified an audience we were missing in low-income older adults/seniors. Creating a technology package with the help of several funders, we provided a Samsung tablet, 12 months of internet, an hour of one-on-one training in small groups, and vouchers for access to some Oasis classes to this low-income population. The response has been overwhelming, with potential to grow and scale well beyond our current structure, pending funding opportunities.
To learn more, we invite you to read our Bridging the Digital Divide for Older Adults and Seniors White Paper. If you would like to speak to someone about this important program, please contact David Beevers at David@SanDiegoOasis.org.
Program Impact
Three years ago, William, one of our Oasis tablet recipients pictured in the second photo above, could no longer afford housing and began living in his car in the Mission Beach area. William said, "It's very hard to be homeless, but now I am in my own home thanks to Trinity Place. Thanks to San Diego Oasis, I also now have this wonderful tablet that will allow me to reconnect with my family and friends. I am also looking forward to taking these technology classes that I have signed up for through Oasis so I can use the internet and learn more about support services that are available online."
Connecting Older Adults/Seniors to their Peers: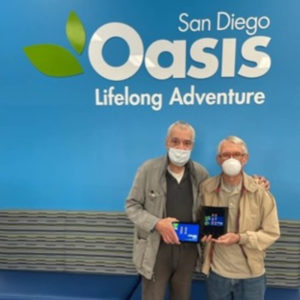 Both James Klug (left) and Gerald Mahoney (right) had never used technology before, but bonded during the training and quickly became friends. In fact, once Gerald found out that James does not have any personal mode of transportation, he drove James home to save him the long journey back home on public transportation. They plan on coming back together for more follow up tablet trainings in the near future and stay in touch with each other, as they both live alone. One of our San Diego Oasis staff members had the pleasure of interviewing James to find out what inspired him at 84 years old to apply to our Digital Divide program, which you can read below.
James Klug is 84 years old and a veteran of the United States Army. He is the oldest of six and lives alone, as the rest of his family all live in the Midwest. James has never used technology and has always relied on postage stamps and the telephone to connect with his friends and family. His family, especially his daughter, have all been encouraging him to embrace technology for years. He always thought, "I have gone all these years without it, so I am sure I can survive just fine without it." James often relied on the local Parks and Recreation as well as the local library to stay active and engaged…then the pandemic hit.
James realized quickly that he was isolated, but was not sure how to get started on his technology journey. Then, one day, he came across an article in the newspaper discussing the San Diego Oasis Digital Divide Program. He took two buses and a trolley ride for 90 minutes to come to Oasis to find out about the program. At the time, he was not even sure what a tablet looked like, but knew that it was time to reconnect with the outside world. After coming to the training at Oasis, he was excited to be able to enroll in multiple Oasis online classes, and he even sent out his very first email! James informed our staff that, "Every day [he] practices using the tablet and every day [he] learns something new."
Program Purpose
The purpose of the San Diego Oasis Digital Divide Program is to encourage learning, connection and community through technology. Eligible low-income older adults will receive a new, specially configured Samsung Tablet (which will be theirs to keep), internet connectivity for twelve months, tech training in use of the tablet, and a $100 coupon for Oasis classes. Participants are encouraged to take at least 4 classes per month for the first six months. All information will be held in strict confidence.
Ways to Apply
Complete the Digital Divide Tablet Program Application and give to your designated representative of the facility/organization, who will return it to Oasis. Upon completion, the application will be sent directly to San Diego Oasis electronically.