August 26 | Women's Equality Day
Three Ways to Commemorate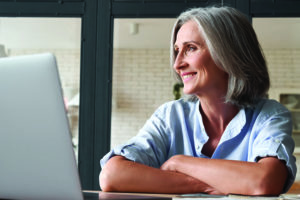 Today is a special day on which we commemorate the ratification of the 19th Amendment, which gave women the right to Vote. Although the 19th Amendment was technically passed on August 18, 1920, we celebrate on August 26 each year because it was not officially certified until August 26, 1920, ending a century-long struggle for suffrage for women.
Today, Women's Equality Day celebrates the achievements of women's rights activists and reminds us of the unique daily struggles that women face. For this week's spotlight, we would like to honor this important day in history by recommending three ways you can join in commemorating Women's Suffrage.
1. Educate yourself on Past and Current Women's Issues: Educating yourself can be a significant first step to creating change and spreading awareness. Here at Oasis, we have plenty of opportunities to celebrate Women's contributions and learn about their struggles, including the classes listed here:
427 | Witches of Salem, Massachusetts
Marilyn McPhie, Storyteller | Friday, October 21 | 1:00 PM | $15
541 | Breaking the Glass Ceiling: Tales of Extraordinary Women
Wendy Davenport, MA, Retired Drama Coach, English Teacher | Mondays, Sep 12 – Oct 17 | 11:00 AM | $25
298 | The Feminist Challenge to Freud: The Work of Karen Horney
Oliva M. Espín, Ph.D. | Monday, September 12 | 10:00 AM | $15
242 | The Philosophy of Abortion
Peter Bolland, MA, Professor of Philosophy and Humanities at Southwestern College
Tuesday, September 27 | 10:00 AM | $16
299 | Religion and Psychoanalysis: The Work of Ana-Maria Rizzuto
Oliva M. Espín, Ph.D. | Monday, October 10 | 10:00 AM | $15
300 | Simone de Beauvoir: Feminist Philosopher
Oliva M. Espín, Ph.D. \ Thursday, October 27 | 1:00 PM | $15
270 | Wonderful Women Classical Composers
Chris Burns, Many-Strings | Friday, October 7 | 3:00 PM | $15
2. Donate on Behalf of an Important Women in Your Life: What better way to honor women's equality than to ensure that women continue to have access to necessary programming like Oasis? Please help us to provide programming to the most educated and well-rounded generation of women to date by donating to Oasis in the name of women who inspires you! Donate here>>
3. Update Your Reading List: Education does not stop in the classroom. Stop by the Oasis Library and pick up a few books that discuss women's rights and women's history. Our books are entirely free! Just stop by the Learning Center at our Grossmont location to browse our available titles.