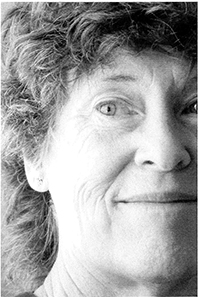 Cynthia is a native Californian, a graduate of Scripps College, and a San Diegan since 1969. She and her husband Michael eventually settled in the community of Linda Vista near the University of San Diego where Michael was an Associate Professor of Psychology.
For many years Cynthia was a collage artist actively involved in the international mail art movement, as well as a studio painter with a keen interest in geometrical abstract & perceptual phenomena. Cynthia was represented by Knowles Gallery in La Jolla; her artwork hangs in private and corporate collections, including General Atomics. A chance invitation by a friend to attend an exercise class designed for elders led to Cynthia becoming a certified instructor.
Finding a new passion
In 2003 Cynthia began teaching a comprehensive strength, balance and flexibility program at Oasis which flourished for over a decade.
"I am gratified not only by knowing that my students were developing a solid grounding in exercise fundamentals that will continue to serve them the rest of their lives, but also that Oasis provided a safe, welcoming environment where they could connect with other like-minded individuals."
"Over the years I saw many close friendships develop – even a marriage! It is this intangible quality of fellowship that reinforced the desire to keep up with our twice-weekly routine. Though I was called 'the Drill Sergeant' on more than one occasion, we shared a great affection for one another."
"For these wonderful years of teaching and for the array of classes that I continue to attend, I am grateful for Oasis and feel privileged to include a gift for Oasis in my estate plan."