| | |
| --- | --- |
| | |
| | Simona Valanciute, San Diego Oasis CEO, and Marylen Mann, founder of Oasis, cut the ribbon to welcome people to Oasis at Grossmont in La Mesa. See more photos below. |
On June 7, 2017, with more than 600 in attendance, San Diego Oasis opened their new Lifelong Learning Center at Grossmont Mall, marking a bold move for the organization and doubling down on their focus towards older adults.  
Simona Valanciute, President and CEO, described in her welcoming remarks that,
"with a growing population of older adults here in San Diego, we have unlimited potential to change the world."
San Diego Oasis, one of the largest chapters of The Oasis Institute, has more than 6,000 active members and ensures productive and meaningful aging for adults 50+.
"Our only limitation is our imagination," Valanciute added. "We choose to appreciate that getting older is a gift, but growing old is optional."
The grand opening featured Oasis Founder Marylen Mann, San Diego Oasis Board Member George Chamberlin, Susan Taylor, VP of External Relations for Scripps Health and Former NBC News anchor, and Suzy Spafford, Creator of Suzy's Zoo and Periwinkle's Journey. The event also featured music, book signings, interactive art displays, exercise demonstrations, and tours of two centers — a Wellness Center and a Lifelong Learning Center.
San Diego Oasis is a local non-profit leader that promotes successful aging through lifelong learning, healthy lifestyles and volunteer opportunities. Working directly with Grossmont Mall over the past year, Valanciute, her staff and the Board of Directors led an effort to bring their growing community to a new and accessible location, having been located at Macy's in Mission Valley Mall since 1982.
Oasis will continue to make adults 50+ in East County aware of their new presence in the area with billboards and bus stop ads. Attendance to the new location will boost business in the area by attracting people to Grossmont Center.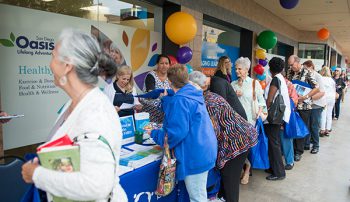 Visitors at the entrance to the new San Diego Oasis Lifelong Learning Center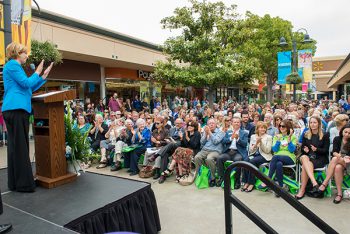 Simona Valanciute greets the crowd at the opening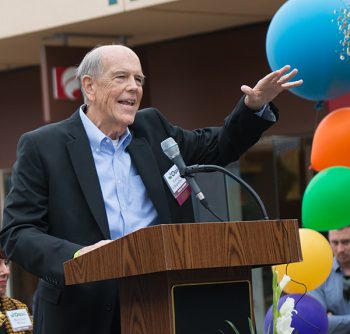 George Chamberlin, business editor for KOGO Radio and host of "Money in the Morning," served as master of ceremonies at the opening event.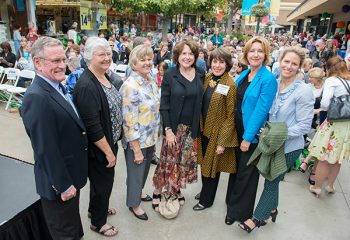 Former San Diego Oasis directors Harry Matheny, Carolyn Collins, Donna Toro, Karen Kessler and Shawna Yaley joined Marylen Mann, Oasis founder and Simona Valanciute, current CEO at the event.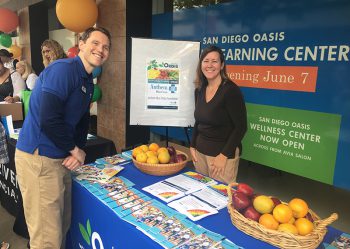 Guests enjoyed fresh fruit and took home Healthy Living Guides from the Oasis Healthy Habits for Adults program sponsored by Anthem BlueCross Foundation.
The lobby in the new Lifelong Learning Center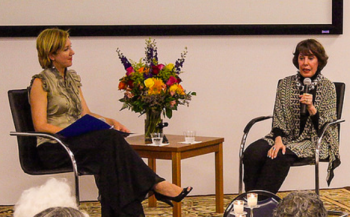 Marylen Mann, Oasis founder, speaks to San Diego Oasis supporters about Oasis history and its future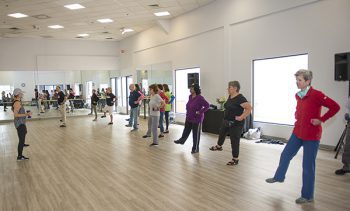 The Oasis Wellness Center features a wide range of fitness and dance classes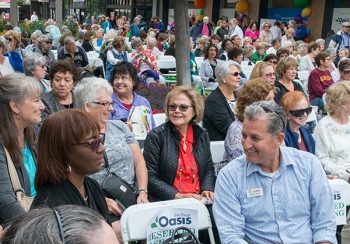 Guests at the San Diego opening
Save