Ricki Milne hoped to learn a little more about her family's history by taking a few Oasis genealogy classes, but she never expected to get a call from a distant cousin. They even had the chance to meet.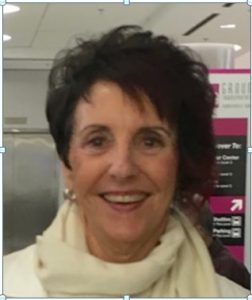 "It was really exciting to hear from him," she says. "We already had a lot of information about my Dad's side of the family, but I never had time to look at it closely. The genealogy instructor told us to start by writing down what we did know and then showed us how to work from there."
In addition to genealogy classes at Pacific Region Oasis, Ricki has taken a few day trips with OASIS, one to see a play and another to a local observatory. She and her husband, Patrick, are taking French together, in anticipation of a trip they'll be taking to France this fall. She has set her sights on a few other class offerings as well.
"I've always wanted to learn to crochet or take a current events class. Every time a new catalog comes out, there are new things I'd like to try," says Ricki. "I really appreciate everything Oasis has to offer."
An Oasis member since 2013, Ricki recently made the decision to become a monthly donor. She is one of more than 50 across the network choosing this method of giving.
"Oasis programs are important, and the classes are excellent. I started thinking about my giving to Oasis and realized through monthly giving I could donate a little more. Plus, it's easy," says Ricki.
Setting up a recurring gift is quick and can be done at oasisnet.org/donate.
Ricki was featured in the 2015 Oasis Annual Report
Visit Pacific Region Oasis in Los Angeles