Oasis was such an integral part of Carmen Garcia's later years that honoring her memory with a tribute gift seems natural to her children, Gilda, Gina and Gilbert.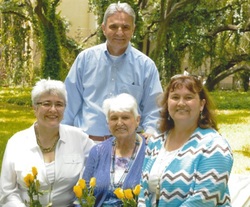 Carmen took classes and volunteered in the office of the San Antonio Oasis for more than 20 years, an achievement that she was thrilled to share with her family during a 20- year pin ceremony in 2011.
"That was one of the happiest days of my mother's life," says Gilbert. "She was so excited. I will always remember that because it was such a significant moment to be recognized for her work, which she took very seriously."
The impact Oasis had on Carmen's life was evident, even from afar.
"We were all living out of town for most of those years, but Mother was independent, happy and had a full plate because of Oasis," says Gilbert.
"Mom set the bar pretty high for the level of engagement and activity after retirement," says Gilda. "She told us, 'These are the best years of my life.' And she meant it."
Extended family, extended life
The Garcia siblings knew that through Oasis, their mother had bonded with people who became her extended family. They were pleasantly, thankfully surprised to discover the extent to which people cared about her.
"Brenda Schmachtenberger, the executive director for Oasis in San Antonio, would reach out to us and tell us how Mom was doing," says Gilbert. "When Brenda knew that Mom's abilities were diminishing, she would just find something else for her to do in the office, something easier to deal with.  It allowed her to stay engaged and keep her dignity. That sort of personal touch meant a lot to us."
When Carmen passed away in February 2015, her children were again moved to know more about the impact their mother had on others.
"At the wake, we had a celebration of Mom's life. It was attended by such a large number of people who were part of Oasis," says Gilda. "There was a choir and drummers. They all came and performed. It was such a loving and fun way to remember her. You could really see how they all considered themselves to be connected and part of a family." People spontaneously started getting up and telling stories about Mom and what they remembered about her.  It was great to hear those stories."
Celebrating a life well lived
All three of Carmen's children agree that their mother would be pleased to know they've chosen to thank Oasis with a legacy gift in her memory.
"We're all the first generation to go to college and we wouldn't have the quality of life we have or the success we have, without our mother's spirit and effort and support," says Gina. "Giving to Oasis is a way of celebrating her."
Gilbert agrees.
"Oasis was such a significant part of our mother's life. We want to extend Oasis as much as we can to make sure it is around for others to take part in. Mom's is one of the best end-of-life stories I've ever heard."
To learn more about how to make a gift in honor or in memory of a loved one, contact Lyndsey Reichardt, National Development Manager at lreichardt@oasisnet.org or 314-862-2933, Ext. 240.