San Diego Oasis presents the largest Technology Fair for older adults 50 and over in San Diego on Monday, November 12 from 9:15 – 3:00!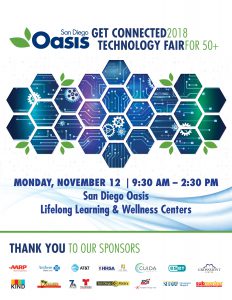 Description of the sessions are now available:  Use this link to read over them and plan your day accordingly!
REGISTRATION FOR THE TECHNOLOGY FAIR IS CLOSED DUE TO FULL CAPACITY.  Thank you for the amazing response!  We are looking forward to a fantastic day of learning all things Technology.
Created to address the needs of older adults who want to be able to stay connected with the world, our fair offers hands-on learning about everything technology. We will have Tech Talk sessions, 40-minutes each, including topics such as Social Networking, Cyber Fraud, Practical Tech Resources for Everyday Living, Innovative Apps, Smartphone help and more. In addition, we have the very popular Ask the Expert area for individual questions and one-on-one help with devices.
The purpose of the Technology Fair is to accomplish the following:  
Educate seniors about the wide range of opportunities technology offers in a Tech Talk format as well as through individual coaching.

Demonstrate how technology can improve the quality of life for older adults.

Create awareness of both the positive and negative aspects of advances in technology. 
Provide an educational and entertaining venue for older adults to learn about local community-based programs that teach technology on an in-depth level.