La Mesa Courier
An adult learning Oasis
Posted: March 25th, 2016
By Aaron Landau
[Editor's note: This is the second report in a three-part series on continuing education opportunities for seniors in and around La Mesa. This article previously appeared in the La Mesa Historical Society newsletter.]
Oasis is a national nonprofit network focused on successful aging through lifelong learning, healthy living and intergenerational community service.

Locally, San Diego Oasis offers classes in arts and crafts; business, financial and legal matters; computers and technology; exercise and dance; food and nutrition; health and wellness; history and humanities; language and literature; personal development and enrichment; theater and music. It also organizes offsite adventures, day tours and extended trips year round. San Diego Oasis' catalogs are available three times a year and there is something for everyone in them.
San Diego County's senior population will double in size in the next 15 years and the fastest growing age group is 80 and over. Clearly, San Diego Oasis programs are needed more than ever.
History
Oasis was founded in St. Louis in 1982 by Marylen Mann. Newly retired, Mann was extremely unhappy to discover what was passing as older adult activities (playing bingo seemed to be it). She felt that older adults deserved better. Mann approached the May Company, a department store chain (now Macy's), and asked for full funding and free space for a stimulating adult education program for those over 50. The May Company agreed, and thus Oasis was born.
After Macy's corporate funding ceased, Oasis has relied on donations, grants and sponsorships while continuing to offer high-quality programs for the 50-plus age group as well as the neediest children in our communities.
The Mission Valley Macy's is the largest location of San Diego Oasis. Macy's provides free space on the third floor of its apparel store. The other location is hosted by the Escondido Joslyn Senior Center. San Diego Oasis also offers programs at more than 20 partner locations, such as libraries and community centers.
Intergenerational volunteers
Beyond stimulating our intellect and taking care of our health as we age, San Diego Oasis runs one of the largest volunteering programs – almost 1,000 Oasis members are actively volunteering today.
As literacy tutors and mentors, San Diego Oasis volunteers help children to build reading, writing and language skills. After completing training, volunteers are placed in local elementary schools, where they volunteer once a week, one-on-one, helping K-4 students.
La Mesa/Spring Valley School District is one of the participating districts. Most of the schools serve at-risk students and are classified as Title 1 schools.
Another well-regarded and evidence-based intergenerational program is called CATCH Healthy Habits, designed to combat rapidly-increasing childhood obesity. CATCH Healthy Habits is a unique intergenerational physical activity and nutrition program for kids K-5 and adults over 50. This program combats childhood obesity by engaging adults as mentors to teach healthy lifelong habits to kids. Classes meet once a week for eight weeks. Hour-long sessions include games, a lesson on nutrition and a healthy snack.
Meet the staff
Simona Valanciute is president and CEO of San Diego Oasis. She has been at its helm for three years now. Her role is to oversee the programs as well as work on strategic planning, policy, and fundraising. Valanciute also works closely with the eight-member board of directors.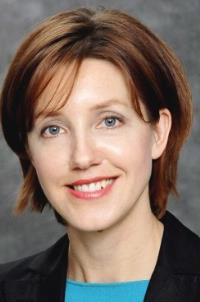 Simona Valanciute
Valanciute's challenge is to strengthen and grow the organization to meet the increasing demand for services. She would like everyone to know about San Diego Oasis and appreciate its critical role in the community.
San Diego Oasis relies heavily on its volunteer staff for daily operations. Every day, a different volunteer team helps Oasis members with class and trip registration, class check-ins, database management, and other functions.
"I bring a new perspective in terms of my age, and also my profession, which is marketing and branding," said Charles Van Vechten, a second generation La Mesan and a San Diego Oasis board member. "I am close to, but not quite in the age demographic for Oasis, but I see its importance through the eyes of my mother and her friends. Keeping active and giving back to the community; exercising your body and your mind are keys to a long and fulfilling life."
Van Vechten said that Oasis has been one of San Diego County's best kept secrets, and the board is eager to change that.
Success stories
Two outstanding examples of those thriving as a result of what Oasis offers are Elinor Smith and Lola Sparrowhawk Kohen. Smith is 82. At age 71, she became a certified exercise trainer and now teaches two classes at Oasis. She also takes two upper level Spanish classes.
Kohen teaches creative writing at Oasis. She won an international book award for Best Political Thriller in 2015.
"I got my creative writing start by taking Oasis classes, and now I have a writing career," she said. "If I can do it, so can you."
San Diego Oasis welcomes current and legacy donations of all sizes. To learn more about San Diego Oasis, emailinfosandiegooasis@oasis.org; call 619-881-6262; or visit https://san-diego.oasisnet.org/.
–Aaron Landau is the former president of the La Mesa Historical Society. Reach him at bernieaaron@gmail.com.