Sam Attisha | Senior Vice President & Region Manager | Cox California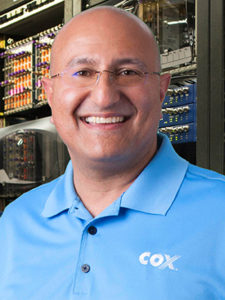 As senior vice president and region manager for Cox Communications in California, Sam Attisha is responsible for leading employees and overseeing day-to-day operations in San Diego, Orange County, Palos Verdes, and Santa Barbara. Attisha is also a member of Cox Communications' National Diversity Council, which focuses on supporting diversity and inclusion within the company and in the community.
Since 2007, Attisha has held various leadership roles in the company. Prior to his current role, he was vice president of business development and public affairs for Cox California, leading Cox Charities and the company's philanthropic giving in California.
Attisha currently serves on the board of directors for the San Diego Regional Chamber of Commerce, San Diego Regional Economic Development Corporation and the California Cable & Telecommunications Association. He also serves on the Corporate Council for Make-A-Wish San Diego and is on the board of directors for Monarch School, which educates San Diego's homeless students in grades K-12.
Attisha grew up in El Cajon. He holds a bachelor's degree in business administration from the University of San Diego, and an MBA from California State University, Sacramento.  He and his wife, Shereen, have three sons.
Sam's Schedule
Friday, October 23 | Opening Speaker
Vincent Delgado |  Business Development Officer, San Diego County Credit Union
Vincent Delgado is a Business Development Officer for San Diego County Credit Union, San Diego's largest locally-owned financial institution. Delgado joined SDCCU in 2019 with a decade of experience in community and business development and he is currently responsible for developing and managing the credit union's relationships with its business partners to elevate awareness of SDCCU. In addition to partnering with local HR leaders, Delgado aims to play a key role in bettering the financial health of the community by educating individuals on financial literacy. Delgado holds a Bachelor's Degree in Social Behavioral Sciences from Cal State University, Monterey Bay and a Professional Certificate in Development and Fundraising from University of California, San Diego.
Vincent's Schedule
Friday, October 23 | Session Three
Latest Scams & How to Protect your Finances (During Coronavirus)
Charles D. Etzweiler, MBA, CIMA®, CFP®, CMT, Chief Research Officer & Senior Vice President | Nepsis, Inc.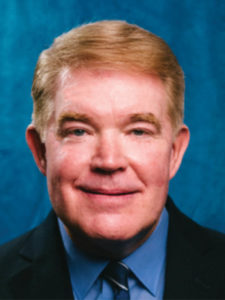 As Chief Research Officer for Nepsis Capital Management, where he has worked since 2012, Charles is responsible for directing the research efforts of the firm. He also serves as Head of the firm's Investment Committee and has appeared as a frequent guest on the Radio Show, "Investing for Success." Charles has been quoted in several industry publications such as US News & World Report. As a National Platform speaker, he has spoken to thousands of investors regarding the landscape of the Economy and the Capital Markets over the last 30 years. Charles also works presently as Senior Portfolio Manager for Jonathan Doering and Matthew Molstre at Thrivent Financial and prior to his current roles he worked as Chief Market Strategist for True North Global Research, and as a Securities Analyst with both Wells Fargo and the Bank of Hawaii. Additionally, Charles has earned the CFP designation and is both a Chartered Market Technician and a Certified Investment Management Consultant. Charles is a graduate of Syracuse University and also has earned his MBA in Finance from the Crummer School of Management in Winter Park, FL. Charles is an active member of the Market Technician's Association and the Investment Management Consultants Association, was raised in Allentown, PA and now lives in San Diego, CA with his wife and two adult sons.
Charles' Schedule
Friday, October 23 | Session Two
The Roaring 20's…The 2020's, That Is!
Alison Jacobson | Safety Mom
Nationally acclaimed speaker, blogger and family safety expert Alison Jacobson, also known as The Safety Mom, has dedicated her life to educating women about health and safety issues that affect not only themselves, but everyone in their family. Alison is the mom of four children, stepmom and caregiver for her husband with Multiple Sclerosis, son with intellectual disabilities and mom who lives with her.
Because of this Alison has become a vocal advocate for accessibility for those with both intellectual and physical disabilities. Alison also understands personal tragedy. In 1997 she lost her first son to Sudden Infant Death Syndrome (SIDS). It was from this tragedy that her desire to inform and educate people on ways to protect everyone in the family was born.
Alison's personal story of overcoming tragedy to find happiness and success both resonates and inspires her audience. On her blog and through her speaking engagements she tackles some of the greatest issues facing families and caregivers:
• Health and wellness advice for women who are caregivers and/or busy moms
• Home and family safety issues
• Time management and tips to manage family chaos
• Safety and resources for seniors and people with disabilities
• Solutions for the leading causes of accidents in and around the home.
Her ability to connect with people in a down-to-earth, uplifting and engaging manner while providing important information has made Alison a popular guest on many national television shows including CNN, Fox & Friends and The Doctors.
Over the years Alison has worked as a spokesperson for some of the world's leading brands including COX Communications, Toyota, Coca-Cola, AT&T, Johnson & Johnson, Unilever, Proctor & Gamble and Sylvania.
Prior to her role in the child safety area, Alison was SVP at Weber Shandwick, one of the world's largest PR firms, where she led business development initiatives for Fortune 500 companies and developed rebranding campaigns and launch programs for numerous consumer brands.
Alison's Schedule
Friday, October 23 | Session One
How Technology can keep you Connected and Safe through Covid-19