July 8 | Disability Pride Month
Building community and solidarity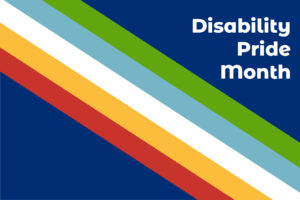 Last month, we celebrated and uplifted LGBTQ+ pride month. This month, we welcome another pride month for folks with disabilities. Some may be confused at the term pride accompanied by the word disability; however, it is essential to note that disability pride is not intended to be used as an appropriation of the term "pride." Instead, it is meant to build upon the same ideas of community and solidarity of the pride movement to reclaim humanity and dignity for people with disabilities. Disability Pride builds upon movements like LGBTQ+, and Black Pride, as people with disabilities have also endured systemic oppression. People with disabilities have traditionally been ostracized and otherized due to their disabled identity. The necessity of basic accommodations does not come without facing the unyielding systemic ableism that has created a cycle of shame and embarrassment for people who must continuously ask for them.
To overcome these feelings of inadequacy and embarrassment, disability pride reframes Disability as an asset. The pride model says yes, physical, mental, social, and learning disabilities exist. Still, it is not the conditions that disable people but a society built by and for non-disabled individuals. The problem is accessibility, not a problem deep within the disabled person that they need to fix. This month calls on us to change how people think about and define "disability." It asks us to deconstruct and end the internalized shame among people with Disabilities and to promote the idea that Disability is a significant, natural, and beautiful aspect of human diversity in which people with disabilities can take pride.
On behalf of San Diego Oasis, to our disabled participants, we See you, hear you, and celebrate you. Disability is a salient part of our DEI efforts because we recognize that this becomes more and more necessary as people age. Here at Oasis, we know more than anyone that accommodations do not make someone less than. They are an important way for people to feel included. As we reimagine aging as a normal and natural process, we must also reimagine Disability as something inherently human and naturally beautiful.
Thank you for celebrating Disability Pride with us as we learn and grow to continue making San Diego Oasis a space for all.
Warmly,
Sydney Folsom | Sydney@SanDiegoOasis.org
Diversity Outreach Coordinator