Help San Diego Oasis Bridge the Digital Divide

"The Oasis program has been a godsend to our seniors allowing them the opportunity to participate in online Oasis classes and access much needed information on health care, housing issues, social security and other important topics such as updates on Covid-19. One of our residents said to me, "Getting the new tablet was an early Christmas Gift that I will never forget."
Dean P. Brown, MPA,CNPM
Sr. Residential Service Coordinator, Community HousingWorks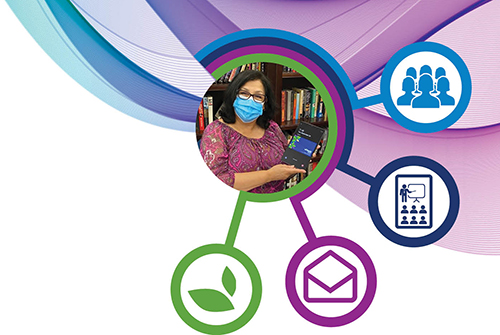 Dear Oasis Family,
THANK YOU!
Thank you for growing with us as we learned how to move San Diego Oasis online, for having patience as we figured out how to navigate the past 18 months together, and for being on this journey with us as we continue to create an amazing community that promotes lifelong learning, provides engaging programming, and offers an internal sense of belonging.
This holiday, San Diego Oasis is excited to announce a matching gift. Thanks to Dawn and Jonathan Doering, we have been given the opportunity to match all gifts up to $25,000! For every dollar you give, we will double it. This means a $25 gift would turn into $50, a $50 gift would turn into $100, and so on. Your gift will support our newest program, Bridging the Digital Divide, which provides low income seniors the ability to overcome isolation, loneliness and technology fears — a pandemic on its own.
With your $50 gift, San Diego Oasis can provide $100 towards the technology package we supply each senior in the program, which includes a tablet with internet, in-person individualized training, and access to a selection of online Oasis classes. This program is positively impacting those who would otherwise be left behind in this technological age. Your gift will make an immeasurable impact to local seniors.
During this holiday season of giving, please consider a gift now through December 31 to make the most of matching funds. Thank you for learning with us. Thank you for growing with us. Thank you for sending us your ideas, and for providing the opportunity for us to continue our work. As always, come see us in person, join us online, or call us if you need help.
We are here for you.
Simona Valancuite, President & CEO
P.S. The CARES Act is still in effect until 2022! Until December 31, your donation is 100% AGI deductible instead of the usual 60% AGI (adjusted gross income deduction).
This Holiday, Give a Senior the Ability to Video Chat with their family.
Bridging the Digital Divide addresses the ongoing epidemic of generational isolation happening to seniors without access to or understanding of technology. This divide causes loneliness, isolation and promotes fear of technology because of lack of opportunity. Thanks to several generous donors, we have already distributed tablets and trained over 700 low income seniors. We would like to provide an additional 300 by March of 2022. Your gift today will allow us provide these services to low income seniors in your community, so they can reunite with their families this holiday season and beyond.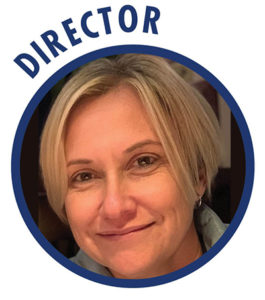 Learning, connection and community through technology is so vital in helping prevent social isolation for seniors. San Diego Oasis has worked with us to bridge the digital divide by providing us with free tablets and training for our residents. – Tina Borngen, Service Coordinator, Sorrento Tower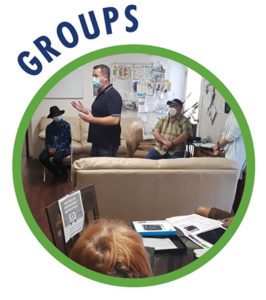 Oasis has been a godsend to our seniors by allowing them the opportunity to participate in online Oasis classes and access information on healthcare, housing issues, social security and other important issues. – Dean P. Brown, MPA,CNPM, Sr. Residential Service Coordinator, Alabama Manor/Kalos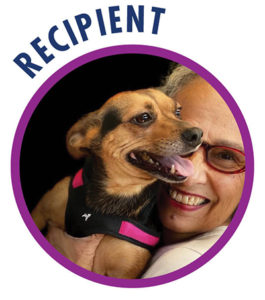 The tablet provided by San Diego Oasis has been a life-saver. I am so thankful to now be able to get online and connect to so much via the Internet. – Teresa, Recipient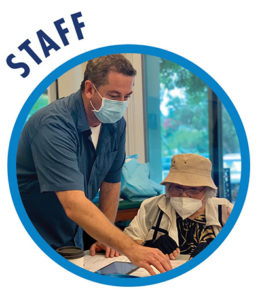 Seeing people finally able to connect with family and friends, worship services, and physicians, while also assisting them to keep physically and mentally active with Oasis classes is such a rewarding experience. –David Beevers, Program Manager, North County, San Diego Oasis
Join our new community of monthly donors who are making an impact on the seniors in our community.
Why Give Monthly?
Make a lasting impact at Oasis with a monthly donation that adds up to a major gift at the end of each year. Becoming a monthly donor has never been easier! If you received this letter in the mail, simply choose the "monthly donation" option on the return envelope to start your journey with Club Oasis. You can also visit our Donate page and make your selections there. If you need assistance, please reach out to Geordyn Coker, Development Manager – Individual Giving, at Geordyn@SanDiegoOasis.org.